Not Your Grandma's Holiday Music
posted by Krissi
categories
Tired of hearing the same four holiday songs blasting tinnily from mall speakers as you try to navigate crowds saturated with Uggs & Starbucks cups? Same. That's why I'm sharing some of my favorite seasonal music that you probably won't find on any of the playlists guaranteed to include that one song, which purportedly earns its author at least half a million dollars a year.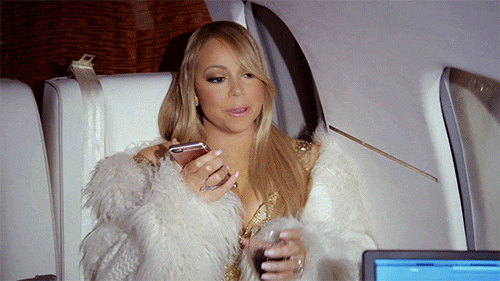 So if you're ready to get more lit than your average , look up the tracks on your preferred streaming service & bliss out to your own winter wonderland wherein "Trans-Siberian Orchestra" is just a silly-sounding string of words & no one grumbles at you for celebrating Jesus' birthday as if it were a secular holiday.
"Carol of the Bells" by Pentatonix

You've probably heard versions of this Ukrainian folk song featuring children chanting a capella like a coven at a sacrificial bonfire. That being said, Pentatonix's take on the song that could easily be mistaken for a funeral march if you didn't heed the lyrics is less spine-chilling than it is toe-tapping, nay, lit.
"8 Days of Christmas" by Destiny's Child

I'm sorry, Bing Crosby, but your version of "White Christmas" is the kind of ditty one puts on when trying to lull a baby to sleep. The thing is, I want to TURN UP for my Christmas festivities. Enter Beyonce et al. You might offend some Scrooges in your life with this tune, but don't let others dampen your extra af holiday cheer.
"Last Christmas" by Carly Rae Jepsen

Remember that one 28-year-old who got famous for swooning about her passive-aggressive display of interest in a guy? Well, you should, considering that her previous two albums have contained some of the most perfectly composed & "gorgeous" pop tunes you'll hear anywhere. But favor for underappreciated non-holiday music aside, Carly Rae has given hoi polloi yet another gem they probably don't deserve, this time hidden in the form of a cover of Wham!'s truly iconic "Last Christmas". But if the song is too twee for your liking, then consider moving on to…
"Wit It This Christmas" by Ariana Grande

I'll hazard a guess that you've never heard a Christmas song that sounds as sexy as Ariana's "Wit It This Christmas." In fact, the EP that this track is on may very well be the sexiest sounding Christmas album ever made. But, sure, that's just my opinion. I wouldn't be surprised if someone out there said unironically that The Eagles' "Please Come Home For Christmas" revved their engine. () At the very least, this is the sexiest sounding track I've ever listened to. Give it a figurative spin & see if you disagree. Just don't @ me with your aggressive reaction to one blogger's noncommittal assertion about a Christmas song because you should probably do something else more important instead.
"Stranger At the Table" by Jeremih & Chance the Rapper

Because I'd be breaking my self-enforced rule of not sharing popular songs if I included Jackson 5's "I Saw Mommy Kissing Santa Claus" on here, I decided to give the old school quintet at bottom a nod by sharing a track that samples them. The superstar status of the duo's members alone should get your attention, to say nothing of the fact that they came together for a Christmas mixtape. It's literal . I need say no more.
"Puppies Are Forever" by Sia

I'm not sure whose idea it was to sneak pro-PETA propaganda into what's supposed to be a feel-good tune for the season but it works for Sia. Color me pleased.
"Christmas Tree (feat. Space Cowboy)" by Lady Gaga

When I said that you've never heard a Christmas song as sexy as Ariana Grande's "Wit It This Christmas," I wasn't exactly telling the whole truth. My equivocation comes from the fact that one of Lady Gaga's forays into the world of Christmas music is almost pearl-clutchingly raunchy, if one pays attention to the lyrics. Without words, however, the song would sound like a decent albeit unpolished banger by a SoundCloud DJ. That being said, you might very well end up texting "u up?" to your Santa baby after Gaga infiltrates your unconscious brain with her suggestions for making "good cheer" this year.
"Favorite Things" by John Coltrane

If you want to class up your Christmas, look no further than John Coltrane cover the Rodgers & Hammerstein classic with his sultry, scintillating soprano sax. This is the song that would be playing as you enter an underground speakeasy that requires a password like "epicure" for admittance—a place swathed in velvet & smoke, & packed with the coolest-looking assortment of people you've ever seen gathered in such a tiny radius, all of whom holding cocktail glasses so deftly that you might think they were born with martinis in hand. At the very least, it's a song that'll provide momentary relief from the overplayed carols that've been blatting nonstop on every adult contemporary radio station since the last kid to go trick-or-treating finally changed out from his overpriced superhero costume.
"All I Want For Christmas Is You (SuperFestive!)" by Mariah Carey feat. Justin Bieber

OK, FINE—I couldn't help but to include what is perhaps the definitive song of the season, though it's not exactly like the original. On this "SuperFestive!" version, you might hear a voice that you were too cowardly to admit was actually pretty good until Skrillex made a "dolphin" out of it. Yes, I'm talking about Justin Bieber, and it's 2017—it's OK to like him now, so you can stop virtue signalling your disdain for him & just enjoy the song as you sip on your spiked eggnog. Mariah will thank you later for the percentage of a cent you just added to her bejeweled coffers.
All I want for Christmas is a nap tbh,
KM